Spring is just around the corner! That means it's time to shake those mid-winter blues and perk things up with some fresh home updates to bring a touch of spring into your home.
A few simple tweaks here and there are all it takes to give your house and mood a springtime boost.  And there's no shortage of inspiration out there (check out my Pinterest page for more fresh ideas).
These easy home updates are tried and true and guaranteed to help you brighten up both your nest and your outlook on life.
10 Fresh Home Updates to Bring a Touch of Spring to Your Home
1.  Liven things up with plants.  Using greenery or fresh flowers to bring the outdoors in is one of the easiest home updates for spring. I can't think of a better way to brighten up a space than with beautiful green plants.
A favorite addition to our home is our fiddle leaf fig.  I looked for one for months, but due to the fiddle leaf fig frenzy, all of the local garden centers were sold out.
Eventually, I decided to order one online–from Home Depot.  It came in just a few days,  traveling all the way from Florida, and arrived in perfect condition.  I love how it gives our home a happy tropical vibe in the middle of winter.
One of my favorite home updates–for any time of year–is to buy greenery and/or flowers from the floral department at the grocery store and pop them in a pretty white pitcher or vase.  I've found that bunches of greenery are especially long-lasting, so I get a lot of enjoyment out of one simple bunch of foliage.
2. Go faux.  I love adding terrariums, like the one below, to our home.  I simply fill them with bagged moss and fake succulents.  They're so vibrant and fresh-looking, I'm tempted to add one to every spot in our home.
The other faux thing in this photo are the cherry blossoms, which I made from tissue paper.  After seeing them over on Happy Happy Nester, I had to give them a try, and they were so fun and easy to make!  I love having a touch of springtime in my home that I don't have to remember to water!
3. Style your surfaces.  I love updating the looking of our home by styling and re-styling our coffee tables, accent tables, shelves, countertops, and mantel.
One of the reasons I love styling is that I can use items I already have on hand.  If I don't like how something looks, I can easily change it by moving things around or bringing in new items from another part of the house.  Plus, it's a great way to put some of the decorative items that are languishing in a basement closet to good use!
Some of the styling tips I've learned include:
using stacks of books to raise objects off the surfaces (this was easy for me, because we have a lot of books!)
combining items in groups of threes–preferably with a tall item, a shorter, more sculptural item, and a horizontal item
editing: this is a tough one for me, because I tend to overdo–I'm learning to edit until I achieve a the right look for each space (although I still tend to go back and fiddle with things later)
balancing hard and soft objects, as well as things with different textures, colors, tones, and styles
layering–placing some things in front of others and some off to the side–to create more depth and give the space a more natural look.
By the way, Emily Henderson's book, "Styled," is a great source of inspiration for learning how to style the surfaces in your home.
4.  Update Your Bedding.  While many people switch to darker colors, plaids, and flannels for their bedroom linens in the winter, I like to go with white bedding all year 'round to make the room seem brighter and sunnier.  Currently, we're using a white comforter we've had for many years, but I have my eye on this white duvet from Anthropologie.  Isn't it gorgeous?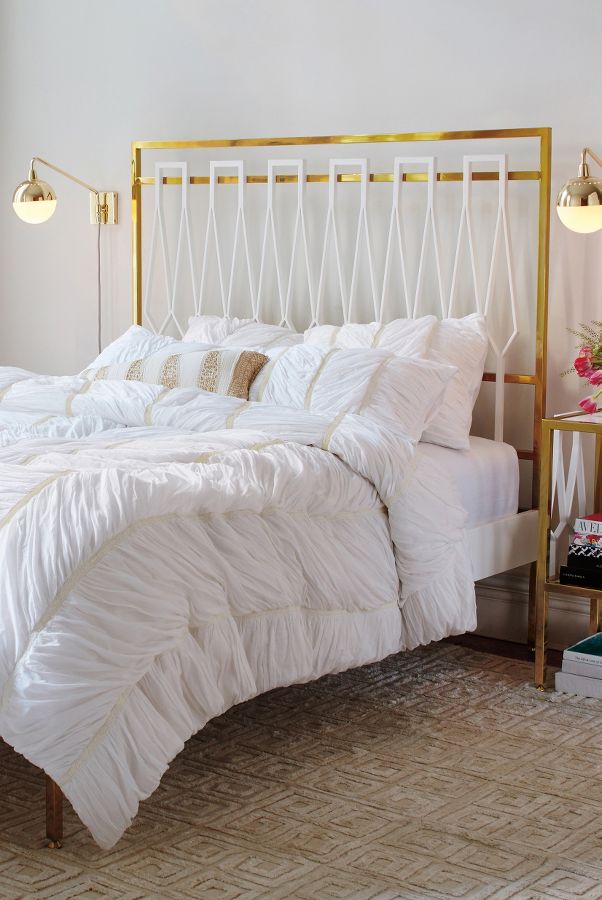 5.  Rearrange the room. One of the easiest home updates is to rearrange the furniture.  Sometimes I forget what a huge difference this simple adjustment can make.  Not only does shifting the furniture change the entire look of a room, it can change your lifestyle.
After we rearranged our living room furniture it became such an inviting space that we find ourselves in there more often–it's become a favorite space for doing puzzles, chatting, reading, and napping.
Rearranging the furniture only cost us a few minutes and few sore muscles (it took several tries to get it right).  Plus, I had to warn Dave to be careful if he got up in the middle of the night because he might bump into something that wasn't there the day before!
6.  Perk things up with a pop of color. The simple addition of a fresh bouquet of bright pink flowers or a bowl of fresh lemons, oranges, or limes will make your eyes (and nose) think spring-time has arrived!
And don't stop with just one arrangement–think of adding these mood boosters all over the house:  bathrooms, night stands, desks, kitchen countertops, and entryway tables can all benefit from a happy pop of color.
7.  Pump up your pillow panache.  Add a fresh look to your couch, chairs, and beds by adding new pillows, or simply rearranging and re-purposing the ones you already own.  And, if your pillow collection has grown to the point where it's taking up an embarrassing amount of space in a closet (like mine), think about just buying pillow covers from now on and using the inserts from pillows you already own.
I found these cute buffalo plaid pillow covers on Amazon for around $7 and just love how they freshen up the room.
8.  Go with a gallery wall.  My love affair with gallery walls began when I created a small collection above the TV in our basement family room.  That project turned out to be so much fun that I created one over the desk in my office, then another in a guest room, then a second one in my office!
I simply buy a variety of pre-matted frames and filled them with a mix of photos, purchased artwork, and artwork I create.  I like to add unusual things, too, like baskets, antlers or an ampersand, to create a unique display that never fails to brighten my mood.
Creating a casual gallery wall is surprisingly fun and easy since nothing has to be perfectly aligned, and the shapes and colors of the frames don't necessarily have to match.  Plus, you can keep adding to and rearranging your gallery until you get it right.
If you're interested in creating a more formal, symmetrical gallery wall, one of my all-time favorite home updates was creating a gallery wall in our living room using botanical prints from a book.  See my Botanical Gallery Wall post for instructions.
9.  Welcome the sun. This time of year, we need all the sunshine we can get!  Think about changing your dark curtains to white or lighter-colored versions or removing them altogether.  (Hopefully, your neighbors won't mind seeing a bit more of you!)
Another super-simple thing to do is raising all your blinds to their highest positions during the day to let in the maximum amount of blessed sunshine.
In the same vein, think about tweaking your artificial lighting sources, too.  Simply replacing old lampshades with new ones can give an entirely new look to a room.  Also, consider moving your current lamps around to different surfaces and different rooms. Another idea is to place small lamps where you might not normally think of them, such as kitchen and bathroom countertops, sideboards, and mantels.
10.  Freshen the front door. Now that you've taken down your Christmas wreath (it's almost March–time to let it go!), your front door probably looks kind of naked.  Why not dress it up with a vibrant green boxwood wreath or something to herald springtime, like a beautiful door basket filled with fresh or faux flowers or greenery?  Your neighbors will love you for it!
I hope these fresh home updates will spark your creativity and give you (and your home) a whole new outlook on life.  Remember, spring will be here before we know it!
xo jane
4
None
1
1000000
Name...
/spring-home-updates/